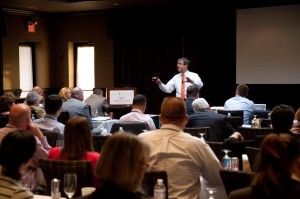 This year's version of Sound Bites, the Massachusetts Broadcasters Association's Annual Meeting and Mingling event, was the most successful to date.  Just fewer than 180 Massachusetts Broadcasters packed the Verve Hotel in Natick for an afternoon of seminars and an evening of mingling, food, laughs and the presentation of the MBA Broadcasting Awards.
The day kicked off with two concurrent seminars.  Dave Burke presented "Street Smart Strategies for Selling More Car Dealers to a full house.  It's no secret that car dealer budgets are migrating more and more to digital media.  Those in attendance were able to learn more about the car business and how best to sell to them in 2014 and beyond.
For our programmers, Fred Jacobs presented a three part seminar tackling technology and talent.  First, Jacobs went over how radio users are currently using technology, social media and other digital platforms to entertain themselves.  Next he dove into how stations use social media and mobile with some in-market examples of best practices and room for improvement. Lastly he talked about the care and feeding of talent, focusing on how programmers and jocks can remain relevant and increase their personas.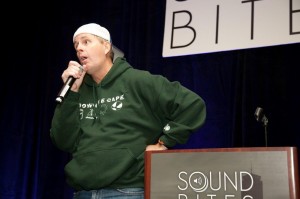 After the seminars, members were treated to a cocktail reception, dinner and entertainment from Maine native, comedian Bob Marley.  Marley continued what has become a tradition at Sound Bites events – having the audience rolling in the aisles.
Capping off a great day was the presentation of the MBA Broadcasting Awards.  The Association awarded plaques to radio and television stations in twelve categories.  A complete rundown of the winners can be found here.  The last award every year is the Broadcaster of the Year.  This year's recipient was WATD-FM owner and "ringmaster" Edward Perry.  A press release can be found here.
Our full album of pictures can be found on our Facebook page.  Suggestions for speakers or entertainment for Sound Bites 2015 can be sent to jordan@localhost.