Edward F. Perry, Jr., radio personality and owner of WATD-FM "The South Shore's Radio Station" in Marshfield, Massachusetts was named the 2014 Broadcaster of the Year by the Massachusetts Broadcasters Association (MBA). The award was presented at Sound Bites, the Association's awards night on Wednesday, October 29th at The Verve Crowne Plaza in Natick.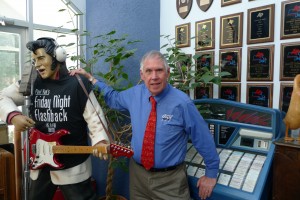 Perry's long broadcasting career began while attending Amherst College as he became a fixture on the radio.  Post college, he worked as a writer and editor while also working as a disc jockey in Rhode Island.  He found that steady announcer jobs were hard to come by and decided owning his own station was the best way to do it, so in 1973 he applied for a Federal Communications Commission radio license.
Years of hard work and perseverance paid off in 1977 when Perry's station went on the air.  The station's tower sits on a six acre parcel of land next to the town dump, hence the call letters or WATD "We're At The Dump".
Perry has dedicated his career to making sure his station stays live and local.  Not only does his station provide a unique mix of music, news, talk and information but through the Talking Information Center, a statewide non-profit, he provides a reading service to more than 20,000 visually impaired persons in Massachusetts and Southern New Hampshire, and thousands more nationwide.
Working with wife Carol, daughter Katherine and son Will, Perry creates an atmosphere of family for all that work at the station.