Members of the Massachusetts Broadcasters Association took to Capitol Hill in Washington DC recently to particpate in the National Association of Broadcasters State Leadership Conference.
MBA Executive Director Jordan Walton, WCVB-TV President and General Manager Bill Fine, WWLP-TV Vice President and General Manager Bill Pepin, Beasley Media Group Vice President and Market Manager Mary Menna, MyFM Media Group President Tom McAuliffe II, WFXT-TV Vice President and General Manager Joe Pomilla, and MBA Counsel Jim Smith attended meetings with both Massachusetts Senators as well as Representatives Neal, McGovern, Kennedy, Clark, Moulton, Capuano, Lynch and Keating.
The broadcasters had five talking points to bring to the Hill: performance tax, retransmission consent negotations, the upcoming television repack, Microsoft's spectrum grab and lastly, a bill giving the FCC added tools to combat pirate radio operations.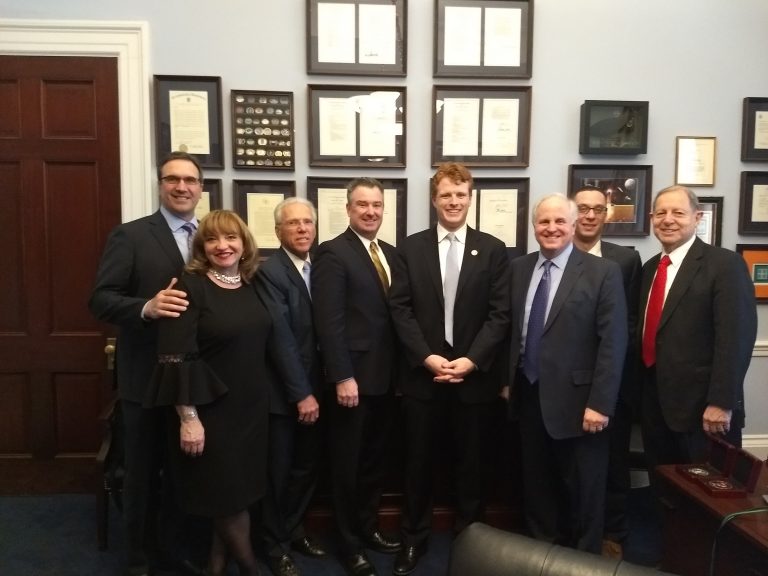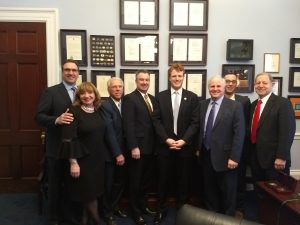 The MBA thanked Representatives Clark, Moulton, Capuano, Lynch, and Keating for being co-sponsors of the Local Radio Freedom Act.  The non-binding resolution, which currently boasts 220 co-sponsors, calls for no new taxes or fees be levied on the nation's radio stations.
For TV retransmission consent, our ask of Congress remains the same: "do nothing." Negotiations between broadcasters and pay TV providers are successful the vast majority of the time.  The system works.  2019 will bring reauthorization of the STELA (Satellite Television Extension and Localism Act) Act of 2014 and retrans lobbying from cable and satellite will increase greatly, thus the need to keep the issue in front of our Congressional delegation.
The spectrum auction was the most pressing ask of our trip.  We're asking Congress to go beyond the originally budgeted $1.75 billion allocated to reimburse full-power TV stations for their expenses in moving channels after the spectrum auction.  NAB and other experts believe the fund is well short of what will actually be needed to make broadcasters whole.
Shortly after our visit the House passed the RAY BAUMs Act, named for Ray Baum who spoke at Sound Bites two years ago, worked with the NAB and on the Hill and recently passed away.  The Act would establish additional funds for full-power TV stations beyond the original $1.75 billion.  It would also create funds for low-power TV, TV translators and FM radio stations that face expenses with the repack.  A bill still has to be introduced and passed in the Senate and Congress would still need to appropriate the actual money to fill these funds.  Rep. Keating stressed several times the importance of localism during our visit, recognizing the need to keep television stations in strong shape. Senator Markey said, "We're going to do our best to make you whole."
Microsoft is lobbying Congress (although many of our delegation haven't heard from them) to be given access to TV white spaces in order to provide broadband to rural areas.  Microsoft has already had this access for 10 years and hasn't done anything with it.  They also did not participate in the spectrum auction, preferring to get free spectrum from the government.  While rural broadband is something everyone can agree is a good thing, their proposal would cause added interference to TV and RF communications in an already shrinking section of spectrum.
Finally, the MBA teed up the soon-to-be-introduced PIRATE (Preventing Illegal Radio Abuse Through Enforcement) Act co-sponsored by Rep. Paul Tonko (D-NY) and Rep. Leonard Lance (R-NJ).  This bill would give the FCC additional tools to combat illegal pirate operators in and around Boston (and in pirate hotspots around the country).
The bill would:
increase fines for pirate operators from $10,000 to $100,000/day, up to $2 million.
Clarifies liability for those who "facilitate" pirates – landlords, etc.
Allows the FCC to issue a fine, then conduct a hearing (currently the opposite)
Gives the FCC litigation authority and allows them to seize equipment
Requires the FCC to conduct bi-annual "enforcement sweeps" in top radio markets with significant pirate operations.
Allow the FCC to dispose of seized equipment 90 days after seizure
The MBA is currently working on securing co-sponsors to this legislation.  Please continue to reach out to us with any pirate-related stories affecting your stations.
The 2018 State Leadership Conference was another in a long line of successful trips to Washington DC.  Our Congressional delegation is keenly aware of the benefits of local broadcasting and our relationship remains strong.