Earlier this month the Massachusetts Broadcasters Association, along with the New Hampshire Association of Broadcasters, held the first-ever joint seminar aimed at strengthening management skills among their members.  Survey results suggest that the most at the session walked away with some actionable items to bring back to their respective stations.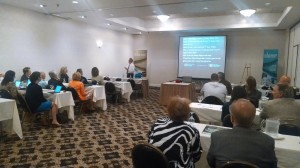 The seminar, led by Revenue Development Resources' Mark Levy focused on some key skills that any manager would find useful.  Mark covered topics like management vs. leadership – what the differences are and how to be good at both.  He also did a session on personality types – recognizing them and how to get along and talk with each.  Lastly a session on meetings that stick reinforced the need to conduct good, meaningful and productive meetings.
The MBA will look to provide more seminars and programs in conjunction with our colleagues in Massahuchusetts in future years.  We are always interested in hearing what you would like to see.  Email Executive Director Jordan Walton with your suggestions at jordan@localhost.