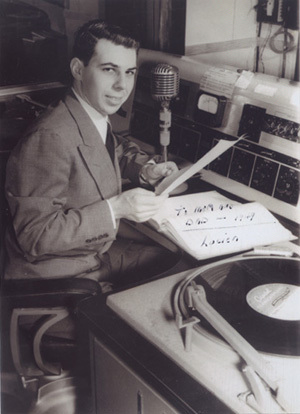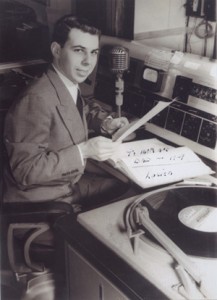 Lucien "Lou" Dumont, an early generation broadcaster whose career spanned more than seven decades, passed away on May 7, 2015 in Hyannis, Mass.
Born in Haverhill, Mass. in Nov. 16, 1924, he was the oldest son and second oldest child of four of Emile and Helen (Huard) Dumont.
His career started as an emcee at war bond rallies with Hollywood stars as part of his high school job at the Colonial Theatre in Haverhill. Later he would serve as the emcee for prominent big band concerts including Duke Ellington, Glenn Miller and Tommy Dorsey. His love of big band, jazz and "American Music" continued throughout his life.
A 1942 graduate of Haverhill High School, he quickly entered the young broadcasting industry with staff announcing positions at radio and TV stations in Connecticut, Maine, Massachusetts and New Hampshire, as well newspaper reporting.
His New Hampshire broadcast journey started August 23, 1943 when he was hired as a staff announcer at WHEB. In 1944, he joined WCOP in Boston, where in 1945 he met the former receptionist of WHEB's Dover studio—and the love of his life—Phyllis Clarkin. Phyllis was also a staff announcer, when her career led her to an ad agency in Washington, DC. In the meantime, Lou's radio career took him to Pittsfield, MA where he was the original program director at WBEC. He later joined WKNB in New Britain, Conn.
In the fall of 1948, Lou and Phyllis were hired at the new WIDE in Biddeford, Maine and they married October 9th. He was program director; she did traffic and continuity. Together they interviewed celebrities on the straw hat musical summer theater circuit at Ogunquit, Maine's playhouse.
In November 1949, they made a return trip to Portsmouth, hosting a husband and wife show, Homemaker Harmonies. Lou's broadcast assignments included live narration each time a new ship was christened at the Navy Yard. They appeared together in community theater with the "Portsmouth Players".
Lou was hired to produce various programs at the new WMUR TV/Ch.9 in March 1954. In addition to doing the weather on Gerry Kearney's late-afternoon Guest House, where he was also an announcer on WMUR Radio, which later became WGIR.
From 1957-1960, he was a staff writer and reporter with the Union Leader, Manchester, NH.
From 1960-1966, he was the on-air 'store manager' for FIRST NATIONAL STORES on WBZ TV/Ch. 4, Boston with advertisements broadcast weekly in the local prime TV newscast.
At the same time, he also was a writer-producer-assignment editor in the WBZ-TV newsroom. In 1966, he joined WHDH-TV/Ch. 5 for a new evening one-hour newscast and later was a member of the team that broadcast the first 11pm newscast in Boston. In 1969, he became the chief writer/researcher for Dave Garroway's Tempo/Boston broadcast from WNAC-TV/Channel 7. During the time, his young family lived in S. Braintree, Mass. In 1964, the family moved to Milford, NH and to the childhood home of Phyllis.
In 1970, he joined the young cable TV industry in Merrimack, NH and in 1971 moved to Keene State College where he managed the installation and operation of the library's Information Retrieval System, a first in the industry using audio-visual technology in the classroom.
In 1973, he began a series of broadcasts, Collectible Classics, tracing the popularity of big band dance music in America, producing a total of 2040 broadcasts. The show initially aired on WKNE, and as of his passing on WKBK, Keene, NH on Sunday evenings. He was producing a show at the time of his passing.
He received a grant from the Council of the Humanities to produce "first ladies of radio", a series of broadcasts for NPR that included interviews with Kate Smith, Jessica Dragonette, among others. He was also a contributor to Hobbies magazine.
A member of AFTRA-SAG he was an extra in the filming of The Cardinal, produced by Otto Preminger in Boston in 1963.
Upon "retirement" from Keene State College in 1987, he and Phyllis moved to Harwich, MA where Lou hosted the afternoon drive time show on WFCC-FM.
Lou cherished and was devoted to his wife of 66 years, Phyllis, who predeceased him in April 2014.
He was also predeceased by his parents, his sisters Betty and Arlene, and a brother, Roland.
He is survived by his son, Clark "Peter" Dumont (Anne) of Las Vegas, NV and Lake Winnisquam, NH, and his daughter, Pastor Michele "Trudy" Dumont of Rolla, N.D., two grandsons, Clark and Jason, three great grandchildren, and nine nieces and nephews.
Lou also loved every person he encountered, and always saw the good in people. He became a well-known and beloved friend to everyone with whom he came in contact, from postal workers, pharmacy personnel, medical office staff, restaurant servers–he always knew everyone's name and was friendly to all. He was a gracious and grateful man who never wanted to put anyone out of their way, a quality that endeared him as witness to the many visitors in his final days. While his rich baritone voice has signed-off, it will live on in his recorded shows.
Donations are to the charity and program of your choice or Hope Hospice www.hopehealthco.org, or Harwich Fire Association, Inc. P.O. Box 23 Harwich, Mass. 02646.