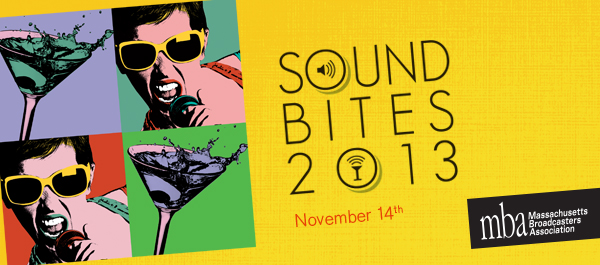 The window to submit your station's work for the MBA Broadcasting Awards on November 14th is officially open!  Last year we had a great start in our return to awarding the best of Massachusetts radio and over-the-air television – this year we can do much better!  The only way to take home some hardware at Sound Bites 2013 is to ENTER!
A physical version of our Call for Entries is in the mail and should arrive soon but you can get a head start by heading to our Call for Entries page on MassBroadcasters.org.  ALL entries (except for Broadcaster of the Year nominees) will be entered and uploaded to BestInMedia.com.  The site is quick and simple to use and features a new Media Manager where you will be able to see all of the files you've uploaded.
In 2013 we've added and expanded our list of categories.  We will now give two awards for news stories – one for spot news and the other for feature stories.  We have also added a Sports Play-by-Play category and, due to popular demand, a Best in Digital Media award.
Lastly, we created an award called the "Above and Beyond" award which recognizes someone at your station that went above and beyond the call of duty in the last year.  This can be anyone at the station truly went the extra mile.  Applications for the Above and Beyond award are at the bottom of the Call for Entries page along with nomination forms for the Broadcaster of the Year.
If you have any questions about this year's MBA Broadcasting Awards, please contact Jordan Walton or Anne Shea at the MBA office.  You can call 800-471-1785 or email jordan@localhost or ashea@localhost.
Entry deadline is Friday, August 16th and entries (for MBA members) are $20.  One half of entry fees collected will be donated to The Jimmy Fund.
We hope to have a large and diverse group of entries in 2013.  Good luck and we'll see you on November 14th for Sound Bites 2013!