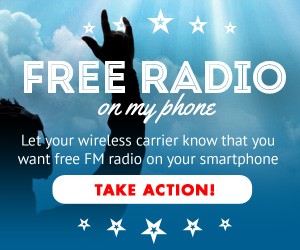 Those in radio have advocated for the universal unlocking on FM chips in smart phones that would allow consumers to listen to free, over-the-air FM radio.  While the notion of a Congressional mandate for unlocking the chips has passed, Congress can still use its influence on the Federal Communications Commission and wireless companies to push the movement forward.
Some members of Congress are beginning to understand the value an unlocked FM chip can have in times of emergency.  As reported in Radio World last month, Bennie Thompson (D-MS) and Transportation Committee ranking member Peter DeFazio (D-OR) urged FCC Chairman Tom Wheeler to "take every possible action to ensure the public has every tool in the public alerts and warnings toolbox at its disposal."
More recently, Representative Yvette Clark (D-NY) sought Chairman Wheeler's support in unlocking FM chips in smart phones.  The Chairman responded by saying that issuing a mandate was not the FCC's place and consumers should drive the demand for unlocking FM chips.
The Chairman is more or less correct.  While the FCC could, as National Association of Broadcasters spokesman Dennis Wharton (@airwharton) was quoted in this Radio Ink article, "[use] its influence in enabling a technology that can save lives in emergency situations," it is bound to happen faster with consumer demand.
If you're interested in pushing this movement forward, consider promoting FreeRadioOnMyPhone.org, the website collaboration of National Public Radio, NextRadio, NAB and American Public Media.  The site looks to activate consumers to contact their wireless carriers, Congress and the FCC.  Post about it on your Twitter or Facebook pages using the hashtags #freeradio and #unlockFM.