Awards were handed out to broadcast radio and television stations in nineteen categories at the Sound Bites Awards sponsored by the Massachusetts Broadcasters Association on Wednesday , November 14 at the Framingham Sheraton Hotel and Conference Center.  SFC Ken Dowd of the Massachusetts Army National Guard and President of the New England First Amendment Coalition Karen Bordeleau addressed the room of radio and TV members.  Comedian Juston McKinney had the crowd of nearly 200 broadcasters in stitches.  2015 MBA Broadcaster of the Year Candy O'Terry emceed the event.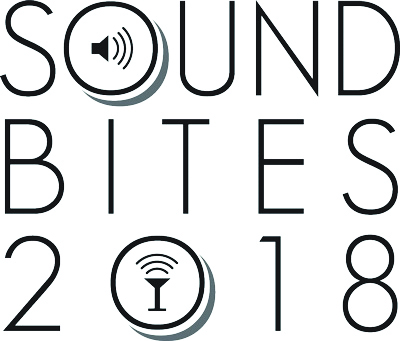 The winners of the night in the Station of the Year category were Cat Country 98.1 WCTK-FM and WCVB-TV for radio and television, respectively.  Milford's MyFM WMRC and Springfield's 22 News WWLP-TV were runners up in the Station of the Year category.
Highlighting broadcaster's commitment to their communities, Cat Country 98.1 WCTK-FM won the radio Sound Bites Award for best Public Service Announcement for their "Volunteer First Responders" PSA.  WCVB-TV won the Public Service Announcement award for their "Stop Addiction" PSA dealing with the opioid epidemic.
The MBA highlighted the best in "localism" with #WeAreBroadcasters awards to Ocean 104.7 WOCN-FM's "Give Where You Live" campaign that raised money for local families in need and to 22 News WWLP-TV for the 22News Blood Drive that turned their studio into a Red Cross blood donation location.
Now in its seventh year, the Sound Bites Awards received nearly 250 award entries, highlighting the excellent work done each year by local broadcasters.  See a complete list of winners below.
| | | | | |
| --- | --- | --- | --- | --- |
| Category | Type | Place | Call Letters | Headline or Title |
| Individual Commercial | Radio | Merit | WAZK-FM | Kitty Murtaugh's 10oz Porterhouse |
| Individual Commercial | Radio | First | WUPE-FM/WBEC-FM | Backwater: Duel |
| Individual Commercial | TV | Merit | WBZ-TV | Dunkin Donuts: Pats Win, You Win |
| Individual Commercial | TV | First | WCVB-TV | Splash |
| Commercial Campaign | Radio | Merit | CodComm | Cape Cod Gutter Monkeys-2018 |
| Commercial Campaign | Radio | First | WAZK-FM | Fusaro's: Nicest People |
| Commercial Campaign | TV | Merit | WCVB-TV | Newton-Wellesley Hospital "Brian's Story" and "Kim's Story" |
| Commercial Campaign | TV | First | WBZ-TV | Abbott Laboratories: 2018 Boston Marathon |
| Station Imaging | Radio | Merit | WAZK-FM | WAZK Sweeper Montage |
| Station Imaging | Radio | First | WBZ-FM | Sports Hub Imaging 2018 |
| Station Promotional Announcement | Radio | Merit | WMAS-FM | 94 Foot Christmas Tree |
| Station Promotional Announcement | Radio | First | WBQT-FM | HOT 96.9's $96,000 Song Scramble |
| Station Promotional Announcement | TV | Merit | WCVB-TV | 5 Investigates |
| Station Promotional Announcement | TV | First | WFXT-TV | 25 Investigates Missing and Forgotten |
| Air Personality | Radio | Merit | WSRS-FM | Suzanne & Greg In The Morning |
| Air Personality | Radio | First | WMAS-FM | The Kellogg Krew |
| Air Personality | TV | Merit | WCVB-TV | Maria Stephanos |
| Air Personality | TV | First | Western Mass News | Jacob Wycoff |
| Sports Feature | Radio | Merit | WATD-FM | Cannons In The Community |
| Sports Feature | Radio | First | WATD-FM | Kingston Hockey Classic |
| Sports Feature | TV | Merit | Western Mass News | Lacrosse Team Honors Mother Battling Breast Cancer |
| Sports Feature | TV | First | WBZ-TV | Jayson Tatum and His Mom |
| Sports Play-by-Play | Radio | Merit | WPKZ-AM/FM | Leominster High School Football on The K-Zone |
| Sports Play-by-Play | Radio | First | WBZ-FM | Bruins-Maple Leafs Game 7 |
| Spot News Story | Radio | Merit | WMVY-FM | Island Students Walk Out For Parkland |
| Spot News Story | Radio | First | WATD-FM | March For Our Lives |
| Spot News Story | TV | Merit | WBZ-TV | Vegas Shooting |
| Spot News Story | TV | First | WCVB-TV | Yarmouth Officer Killed |
| Investigative Reporting | TV | Merit | WNEU-TV | Facing Danger – Noticiero Telemundo Nueva Inglaterra |
| Investigative Reporting | TV | First | WWLP | Student Restraints |
| Feature Story | Radio | Merit | WATD-FM | Powerful Women Revealed |
| Feature Story | Radio | First | WPXC-FM | Homeless For The Holidays |
| Feature Story | TV | Merit | WWLP-TV | Alone, Addicted, and Broke |
| Feature Story | TV | First | Western Mass News | Exposed: Firefighters' Risk of Cancer is Growing |
| Photojournalist | TV | Merit | WBTS-TV | Aaron Stader |
| Photojournalist | TV | First | WBTS-TV | Jim O'Halloran |
| Excellence in Sound | Radio | Merit | WATD-FM | Phone Hijinks |
| Excellence in Sound | Radio | First | WATD-FM | Ghost Stories |
| Recurring Segment | Radio | Merit | WATD-FM | WATD Live From The Tiny Stage |
| Recurring Segment | Radio | First | WAMQ-FM | WAMC Infrastructure Series |
| Recurring Segment | TV | Merit | WBZ-TV | WBZ: It Happens Here |
| Recurring Segment | TV | First | WCVB-TV | Cutting Edge |
| Digital Media | Radio | Merit | WBQT-FM | HOT 96.9's $96,000 Song Scramble Social Blitz |
| Digital Media | Radio | First | WAAF-FM | LB's Big Decision |
| Digital Media | TV | Merit | WWLP-TV | Brynn Cartelli in The Voice Finals |
| Digital Media | TV | First | WBTS-TV | The Recap |
| On-Air Contest | Radio | Merit | WCTK-FM | Guess What's In It – To Win It! |
| On-Air Contest | Radio | First | WBQT-FM | HOT 96.9's $96,000 Song Scramble |
| Public Service Announcement | Radio | Merit | WMAS-FM | Kid's Safety Expo |
| Public Service Announcement | Radio | First | WCTK-FM | Volunteer First Responders |
| Public Service Announcement | TV | Merit | WWLP-TV | 22News Toys for Tots |
| Public Service Announcement | TV | First | WCVB-TV | WCVB Stop Addiction PSA |
| #WeAreBroadcasters | Radio | Merit | WATD-FM | Suicide Prevention Awareness |
| #WeAreBroadcasters | Radio | First | WOCN-FM | Give Where You Live |
| #WeAreBroadcasters | TV | Merit | WBTS-TV | Celebrating Boston Pride |
| #WeAreBroadcasters | TV | First | WWLP-TV | 22News Blood Drive |
| Above and Beyond | Radio | First | CodComm | Matt Barry |
| Station of the Year | Radio | Merit | WMRC-AM | |
| Station of the Year | Radio | First | WCTK-FM | |
| Station of the Year | TV | Merit | WWLP-TV | |
| Station of the Year | TV | First | WCVB-TV | |