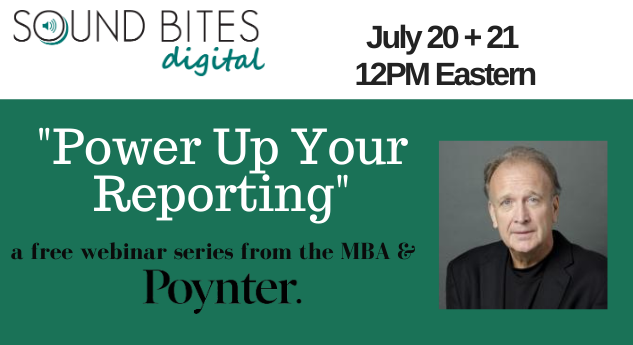 Mon, Jul 20

from 12:00pm
to 1:00pm
Poynter's Al Tompkins, senior faculty for broadcast and online, will teach SBA members practical reporting skills they can use on their next shift.
In session one, members will learn:
How to think visually, even when you are working in a COVID-19 world

The elements of a great story lead

The elements of a great tease

How to land great soundbites and know them when you have them

How to turn important (but hard to tell) topics into compelling stories

The power of natural sound as journalism, not decoration
In session two, members will learn:
What exactly is active voice and why it matters to journalism

The secret to the first 10 seconds of a live shot

Balancing creativity and clarity

The power of setting

The power of surprises: what goes where in a story and why

The secret of word-order in sentences. (Hint: This is why Morgan Freeman is so powerful)
Who should take this course?
Perfect for TV reporters, MMJs, photojournalists and for assignment editors and producers who want to more effectively coach and partner with reporters.