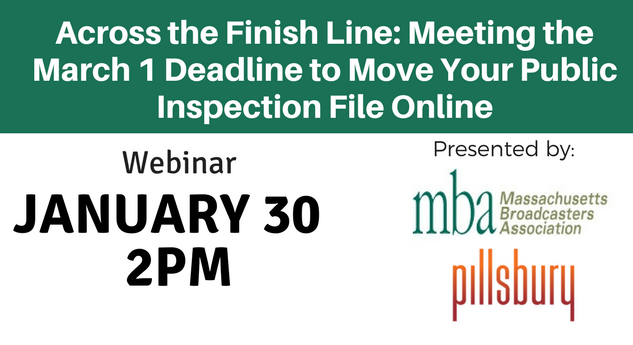 Join the Massachusetts Broadcasters  for "Across the Finish Line: Meeting the March 1 Deadline to Move Your Public File Online presented by Laurie Lynch Flick of Pillsbury Law.  This webinar will be FREE to all MBA members.  Fill out the form below and login instructions will be sent to you as soon as they are available.
From Pillsbury Law:
Almost six years after requiring TV stations to move their public inspection file online, March 1 marks the deadline for radio stations that have not yet moved their file online to complete that task.  The FCC required commercial radio stations with five or more full-time employees in the top 50 markets to make the move in 2016.  As a result, this "last wave" of stations moving online consists mostly of noncommercial and smaller-market commercial radio stations.  That means the drain on limited station resources will often be proportionally greater than it was for TV and large-market radio stations making the move.
Based on the feedback we have been hearing from broadcasters across the country, we have designed this webinar to address many of the technical challenges that are making the move difficult for many stations.  We'll also cover what you need to do and what the FCC has said it will do for you, so that your employees can accomplish the task in the most efficient manner possible.  Finally, we'll talk about the future — how maintaining an online file changes not only how you interact with your file, but how the FCC and others will interact with it as well.