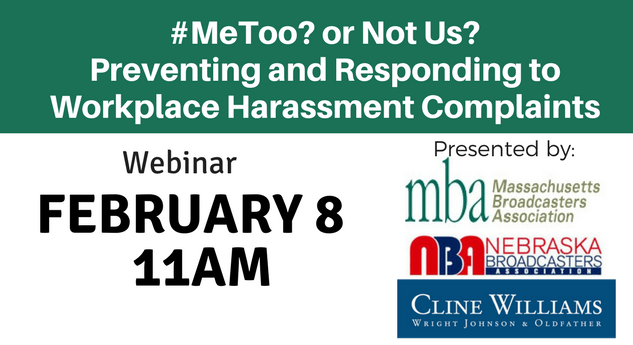 The news is filled with stories of inappropriate workplace behavior but are you ready for when it happens at your station?  This webinar will provide valuable information for station owners, General Managers, HR Managers and all other management positions with actionable information you can use to hone your current workplace harassment policies.  This webinar is FREE to all MBA members.
Through this webinar presentation, attendees will learn:
·  What to do if one of your employees makes a harassment complaint
·  What should and shouldn't be included in anti-harassment policies
·  Complaint procedures for unlawful or inappropriate behavior
·  Responding proactively to harassment even in the absence of a complaint
·  Workplace dating policies
·  Employee education with regard to responding to inappropriate behavior
·  What never to do while investigating allegations of sexual harassment at work
To take part in the FREE webinar, register by Wednesday, February 7th!
This webinar will be presented by employment law specialists Tara Stingley and John Hewitt of the Cline Williams Law firm in Omaha, through the Nebraska Broadcasters Association and the Massachusetts Broadcasters Association.
Note: Password "218NBAwhw" will be needed the day of the webinar.